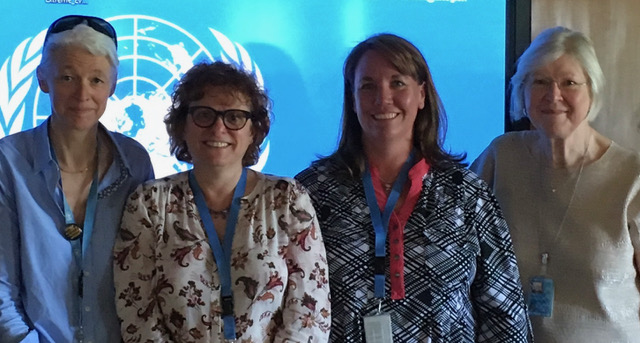 Executive Committee members (from left to right, Valerie Bichelmeier, Silvia Perel, Kelly Fitzgerald) with Ann Lindsay, Committee Representative to GAROP
Chair: Silvia PEREL-LEVIN
Representative of the International Network for the Prevention of Elder Abuse (INPEA) and The International Longevity Centre Global Alliance (ILC GA)
Silvia is the chair of the NGO Committee on Ageing in Geneva and representative to the UN of the International Network for the Prevention of Elder Abuse (INPEA) and the International Longevity Centre Global Alliance (ILC GA). 

An advocate for the rights of older persons and an independent consultant, she has been working in the fields of health, ageing and human rights for over 20 years. Before that, she was a theatre and TV producer using the arts to promote social change. 
During the years she worked at the WHO she organized in close cooperation with NGOs,  global and local events including the International Day of Older Persons and World Health Day within the NGO Forum that preceded the UN Assembly on Ageing in Madrid in 2002. She managed the first multi-country study on elder abuse working with multiple partners and produced the report 'Missing Voices, Views of Older Persons on Elder Abuse'. This led her to pursue graduate MSc studies at City University London in Society Violence and Interprofessional Practice and adapted her dissertation on elder abuse for a WHO publication.
She was born in Argentina and has lived, studied and worked in England, Israel, Hungary and Switzerland. She has a B.A. in social and educational theatre from Tel Aviv University and an MSc in Inter-Professional Practice from the Institute of Health Sciences of City University of London.
Vice-Chair: Kelly G. FITZGERALD
Representative of the International Federation on Ageing (IFA)
Kelly has been active in the field of gerontology since 2001. In 2004 and 2008 she received her Masters of Science and PhD, respectively, in Gerontology from the University of Massachusetts Boston. Professionally, she is a Faculty member of the Center for Gerontology at Western Kentucky University where she teaches online graduate and undergraduate gerontology courses and supports various research projects. She is also a Guest Scientist at the Center for Gerontology at the University of Zurich where she supports various projects. Recently she completed research contracts for the Public Health Agency of Canada and was the Network Coordinator for an ageing research network in Wales.
She has worked with the World Health Organization and provided support to help cities apply to join the WHO Global Network of Age-friendly Cities and Communities, link cities with other cities, and identify ways in which cities can become more age-friendly. Currently she is the Co-Chair for the Association for Gerontology in Higher Education's (AGHE) Global Aging Committee. She has held several other leadership positions in different ageing organizations including the Gerontological Society of America and the British Society of Gerontology. She has presented on ageing topics in several different countries. She has also conducted research and has published mainly on the topics of disasters and older adults and age-friendly cities.
Kelly has been involved in UN ageing activities since 2010. She began as an NGO representative for the Federation of American Women's Clubs Overseas (FAWCO) (2010 – 2012) and currently (since 2012) represents the International Federation on Ageing.
Treasurer: Valerie BICHELMEIER
Representative of Make Mothers Matter (MMM)
Committee Representative to GAROP: Ann LINDSAY
Representative of World Federation for Mental Health
Webmaster: Kala MADHAV